Sidekick Showcase is a weekly meme hosted by the awesome Jaclyn over at
JC's Book Haven.
:)
*Uncovered spoilers for the Percy Jackson series! Proceed at own risk! I tried to avoid 'em, but I don't think it's possible to not (ahh double negatives) have spoilers when talking about Rachel. xD*
My sidekick for the week:
Rachel Elizabeth Dare from the Percy Jackson series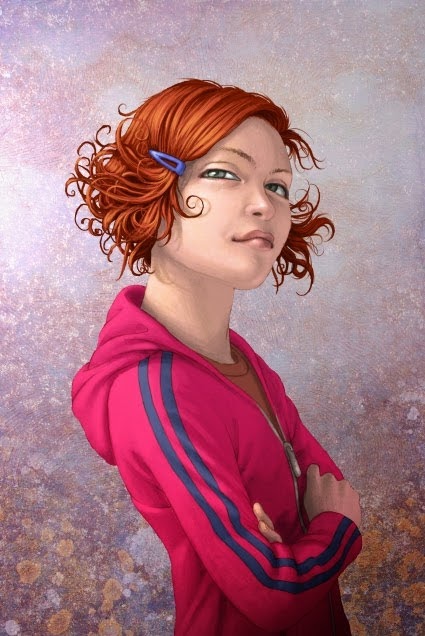 Not exactly how I pictured her. I imagined her with a TON of freckles sprinkled across her nose and her hair being much wilder. As I'm writing this now, I'm thinking of Merida (from Brave) with more freckles and sharper features: sharper nose, sharper chin, sharper eyes, sharper mouth. If you've read the books, you know why xD.
Aren't they beautiful? ;)
Two words: Red-headed spunk. (I think that's two words? LOL)
I was going to say red-headed menace (which I think would have made more sense grammatically lol), but she isn't a menace. Not really. Maybe to Annabeth (xD), but she's pretty cool for an Oracle. I'm actually super glad that Rachel is the new oracle. For one thing, Rachel's alive. (LOL) I'm pretty sure that spirit doll prophecy thing isn't. *shudders* Also, I was hoping to see more of her in Heroes of Olympus. She wasn't in there a whole lot, but I'll take what I get. :)
So my favorite thing about her? She's got spunk (duh! xD). She's loud, she's a little obnoxious, and she's bold. Her sass level isn't quite up to par with Percy, but she's still pretty funny. xD She's passionate for the things she loves (Save the whales! Save the art department! Save Percy!), and like all passions of all Percy Jackson characters, it's infectious. (Annabeth and her architecture. Need I say more? ;) )
But Rachel isn't only this bright spunky girl. She has her issues too (her family and her clear sight), and the responsibility she takes on as the Oracle cannot be undermined. When things need to get serious, she gets serious.
And best of all, she's as tough as nails. I mean, she hit the Titan Lord Kronos in the eye with a blue hairbrush.
(So maybe she is a menace after all. xD)
So what sidekicks did you pick this week?
:)