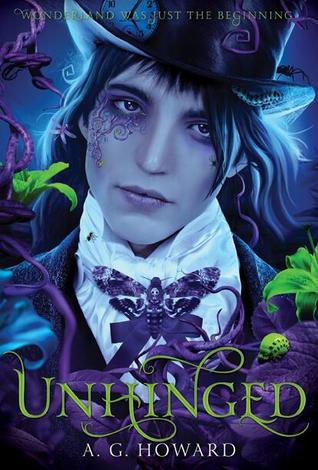 A
uthor:
A.G. Howard
Release Date: January 7th, 2014
Genre(s): YA Fantasy
Pages: 400

Alyssa Gardner has been down the rabbit hole and faced the bandersnatch. She saved the life of Jeb, the guy she loves, and escaped the machinations of the disturbingly seductive Morpheus and the vindictive Queen Red. Now all she has to do is graduate high school and make it through prom so she can attend the prestigious art school in London she's always dreamed of.
That would be easier without her mother, freshly released from an asylum, acting overly protective and suspicious. And it would be much simpler if the mysterious Morpheus didn't show up for school one day to tempt her with another dangerous quest in the dark, challenging Wonderland—where she (partly) belongs.
As prom and graduation creep closer, Alyssa juggles Morpheus's unsettling presence in her real world with trying to tell Jeb the truth about a past he's forgotten. Glimpses of Wonderland start to bleed through her art and into her world in very disturbing ways, and Morpheus warns that Queen Red won't be far behind.
If Alyssa stays in the human realm, she could endanger Jeb, her parents, and everyone she loves. But if she steps through the rabbit hole again, she'll face a deadly battle that could cost more than just her head.
Review:
I
'm overwhelmed by my feels for this book, so I've decided to just start with the most basic thing: the cover. GORGEOUS. Oh my goodness, how is it possible that Morpheus looks EXACTLY like how I'd picture him?? *swoon*
I love this book (obviously ;)). With my state of mind right now, this review will most likely turn into gushing more than an actual review, but bear with me. ;)
So, the first thing first: the romance. SQUEEEEEE! Team Morpheus FOREVER. Morpheus just killed it (figuratively speaking xD) in the book. The incredible amount of depth I saw from him here was amazing (double positives?). Of course, there is some bias on my part since I've been Team Morpheus since the beginning, but needless to say, the cover fits perfectly for this book. He's the embodiment of Wonderland, the logic behind the illogical, and throughout the book, we see this time and time again. I will admit he's not perfect; he is a liar and manipulator, BUT it's his actions (which are really sweet) that show his true intentions and feelings (the logic behind the illogical).
This book focused more on Alyssa's life, which I thought was very curious ;). In the first book, it was action, action, action. Here, for roughly the first half of the book, we take a step back from the action and take a deeper look at Alyssa's (oops almost typed Alice ahaha) life after Wonderland and the effects it had on her. It also explores her personality more in depth; I found it curious (not in a bad way AT ALL) because it made the book seem almost like a companion or side novel rather than a direct sequel. The action parts don't really happen until the second half of the book. I really liked that; not because I don't like the action (Oh, I do), but I also do like being able to connect with the characters and emphasize with them. Alyssa is a reluctant heroine. Her time in Wonderland's mad world has affected her severely (how could it not?), and I loved how the first half of the book explored that. She's by no means perfect; she goes back and forth between choosing her human life (what she wants) and her Wonderland life (which is the right thing) a LOT in the first half of the book. I don't usually like to do this, but I'm going to do this anyways (>.<): the Forever Song (which I read literally right after I read Unhinged- so the comparison is sort of natural) was kind of like this too in the beginning, where the main characters were stalling and going back and forth and not much action happening. The difference is that while the first half of Unhinged is a bit slow-and seems a little like filler- it focuses on the character dynamics and developing the characters. It's not just "stuff," for the lack of the better word. So by the time we get to the action in the second half of the book (and btw the action parts are awesome too!), I'm even more enamored with all these characters. However, I will admit that at a certain point, I was a little worried that the romance would consume the book and would bury the plot; but, as the book went on, the romance sort of BECOMES a part of the plot. (SQUEAL!!!)
Then there's Jeb. He took like 20 steps backward in the book. I'm sorry, and I know he's not purposely being a jerk, but this book was really Morpheus's. I do hope Alyssa ends up with Morpheus. (PLEASE OMG THAT SCENE-not gonna say!- WAS JUST TOO CUTE) It's frustrating because he's doing everything for them to be together, and yet that very thing is pulling them apart. Don't get me wrong, he's still her knight in armor- but that armor ain't shining much right now.
THAT DEVELOPMENT WITH HER PARENTS. (IT'S SO HARD TO FANGIRL WITHOUT GIVING AWAY SPOILERS GRRRR) OMG OMG OMG OMG!! IT JUST BLEW MY MIND YA KNOW? At the same time, I did have this nagging feeling that there was a lot more to her mom than what met the eye, but HER DAD. HOW MUCH DO I LOVE THAT HER WHOLE FAMILY IS IN SOMEWAY OR ANOTHER RELATED TO WONDERLAND???
Final thoughts? WHY 2015??!?!?!?!?? THAT'S LIKE A WHOLE 6 MONTHS OF WAITING!!! WHHHHHHHHHHYYYYYYYY!!!!!!!!!! D:

Rating: 4 out of 5