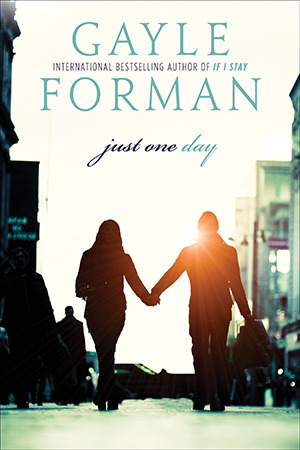 Release Date:
August 20th, 2013
G
enre(s):
YA Contemporary
Pages: 400
Summary (Goodreads):
Allyson Healey's life is exactly like her suitcase—packed, planned, ordered. Then on the last day of her three-week post-graduation European tour, she meets Willem. A free-spirited, roving actor, Willem is everything she's not, and when he invites her to abandon her plans and come to Paris with him, Allyson says yes. This uncharacteristic decision leads to a day of risk and romance, liberation and intimacy: 24 hours that will transform Allyson's life.
A book about love, heartbreak, travel, identity, and the "accidents" of fate,
Just One Day
shows us how sometimes in order to get found, you first have to get lost. . . and how often the people we are seeking are much closer than we know.

Review:
*Hi everyone! I'm so sorry I was MIA this week. Life's been hectic lately, but it should settle down a bit, and I'll try posting more often next week! I have a challenge to fulfill. :)*
I'm not sure what to say about this book. LOL.
I loved If I Stay/Where She Went (I have yet to have watched the move D:… and the Giver for that matter D:… even though I've heard things about the about both movies…), and when I heard Gayle Forman was writing another book, I was so excited. (It took me a while to get this book though because I got sidetracked… again… oops xD.) But after finally reading it, I… don't know what to say.
I mean it was a good book, but I guess my expectations were too high? It was the sort of book where you would initially get overwhelmed with all sorts of emotions, but then afterwards, you would look at the book, and be like, "Huh, it was okay."
I think this mostly had to do with the fact that I expected their one day to last the entire book, or at least have more things happened to bring them closer together (I guess that doesn't sound too realistic, but they say a lot can happen in a day ;)). I actually didn't mind the numerous coincidences because there was something whimsical about just letting things happen for once and to go along with it. But I felt their day was… too short? LOL I know that was probably the point, but I expected more things to happen in that day, and looking back on it, not much did happen. Most of the book was about Allison's life afterwards and her search to find him. To me, I felt the search to find him seemed almost like filler. So eh.
The main thing about this book was not so much the content (I felt this book was aiming to be a contemplation of life and fate, and in some parts it was, but in others… not so much), but how it was written. The writing was absolutely GORGEOUS. It was poetic in a way, and there were so many wonderful places where I marked the sentences to go back and read it again. For me, I think the emotions wrought from the book were mainly due to the way the words were formed.
Allyson was an okay character. I found her likeable in some ways, but in general, there was something... off about her. She (as a character) seemed disjointed and inconsistent. The feeling I got about her was that the author was really trying to give her a different voice/personality than Mia (from If I Stay), and it sort of didn't work, and instead, it made Allyson seem like this disjointed character- but that's just my opinion. Also, t
here would be random moments where she would say, think, or do something, and it was like, "Ummm. What?" It didn't fit Lulu or Allyson. As for Willem… he wasn't a cardboard character, but he wasn't complex or well-rounded either. I mean this idea of one day seemed like a whimsical idea, but in the end, I think the book suffered because of that- and one of the results of that was Willem. He was in that in-between stage where you sort of know a person, but not really. I feel like Willem is going to be developed more in the second book... but that's whole another book, ya know?
With all that being said, I didn't really like the romance because it felt too sudden. It wasn't insta-love, but there wasn't much chemistry between them.
Final thoughts?
To sum it up (I feel like my thoughts were everywhere on this review lol) : it was a good book (the writing!!!!), but there was something not quite right about it.
(I was debating between a 2.5 and a 3, and I compromised on 2.8. LOL)